"I Welcome You To
CRACKERBOX PALACE
We've been expecting you..."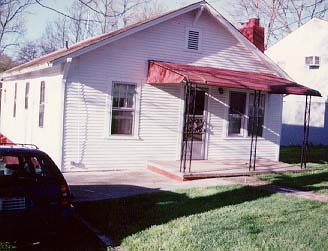 Hello. I am Alice. I named myself that after Alice of Wonderland fame. I changed it with the government and everything. Don't tell me you have never wanted to change your name...
You may recognize the title of my page from the Song "Crackerbox Palace" By George Harrison. My house is very tiny and so I call it my Crackerbox Palace. For every Alice should own a palace.

I live here with my two cats: Scarecrow and Handsome.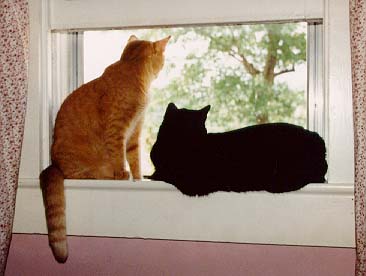 Visit Scarecrow's Orange Cat Page!
Check back soon for Handsome's Black Cat Page. He is a large, lean solid black cat. Click Here for a picture of Handsome smiling!
Handsome is most likely a Bombay cat. To read more about this beautiful breed go to The Cat Fancier's Association page about Bombay cats. Or try the Cat Fanciers web page.
For Three Colored Cats I know and have known, go here. There are lots of of pictures here, so it will take a while to load!
---
Here are some links for you to wander off on...
---
I wish to share some strange things with you. Here is the first one.
All photos and backgrounds on these pages © copyright by Patty A. Pope unless otherwise noted.
E-Mail Me!